MEMORIZE SCRIPTURE
Scripture designs to help you memorize one Bible verse every month!
VIEW MEMBERSHIPS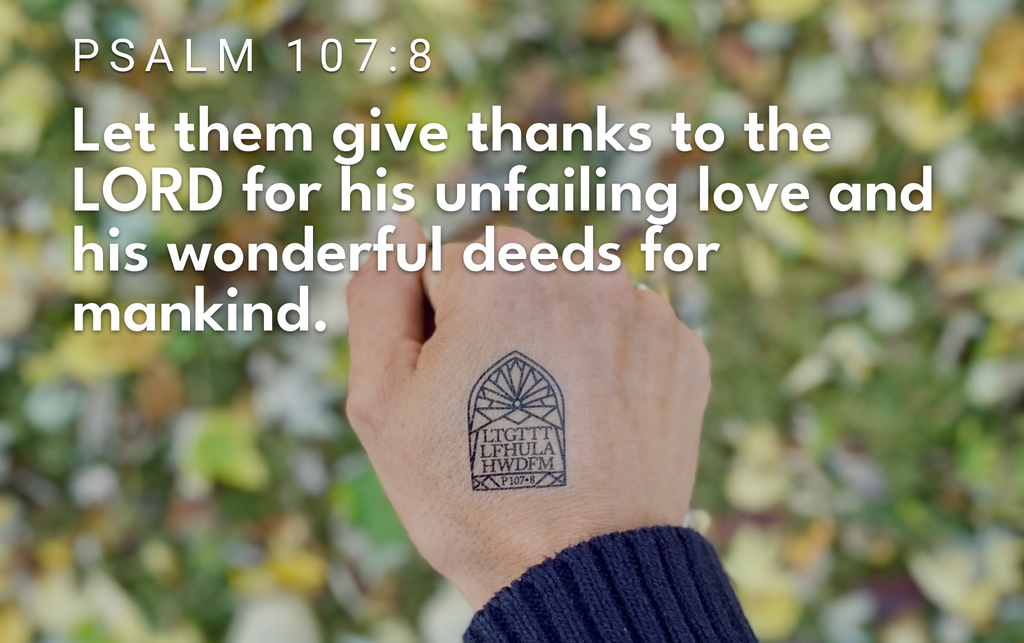 KEEP GOD'S WORD CLOSE
Easily memorize with the tools in your kit (temporary tattoos or vinyl stickers, a key tag, and a print).
BEAUTIFUL DESIGNS
God's Word in your heart and mind helps you focus on him no matter where you are.
SPARK A CONVERSATION
Share your faith when people ask about the verse!
DWELL MAKES MEMORIZING EASY
DWELL MAKES MEMORIZING EASY
Each month, we start with a new Bible verse.
We turn the first letter of each word into a beautiful Scripture design.
We put that design on temporary tattoos, a print, and a key tag, and we mail them to you at the beginning of each month.
Every time you see the design, you remember the Bible verse,creating a simple, life-long, life-giving habit.
VIEW MEMBERSHIPS
"Hidden in my heart, visible on my arm! Love how Dwell's designs help me keep God's Word nearby!"
Becky C.
TATTOO MEMBERSHIP
TATTOO Membership
STARTING AT $9.95
Wear God's Word and get it in your heart! Includes: temporary tattoos, key tag, and a print.
View Membership
STICKER MEMBERSHIP
STICKER Membership
STARTING AT $11.95
Put God's Word right on your water bottle or laptop! Includes: vinyl stickers, key tag, and a print.
View Membership
SEE WHAT PEOPLE ARE SAYING
WEAR IT, SHARE IT.
TATTOOS OR STICKERS
Dwell verse tattoos or stickers are always with you, helping you recall the passage throughout your day and share your faith organically.
Keep your key tags on your keychain like flashcards, so you can remind and quiz yourself throughout the year.
Display beautiful Dwell Scripture prints in your favorite places. Each print comes with a devotional on the back to help you better understand & internalize each month's verse.

Dwell prints are 4x5.5 on matte heavy stock paper, perfect for your fridge or office!
DIGITAL KITS
In addition to the physical kit that will arrive in your mailbox, you'll also get a companion digital kit every month that includes a printable coloring page; lock screens and backgrounds for your phone, computer, and Apple watch; and a list of questions to help you (and your family and friends!) understand and apply the verse. All Dwell Differently members also have access to our entire digital library of verses, so you can memorize more.
EXCLUSIVE ACCESS TO PAST VERSE KITS
Want to share a favorite verse with someone or give a thoughtful gift? As a member, you'll have exclusive access to our library of past verse kits. In our Member Store, you can find just the right verse for every occasion and stock up on thoughtful gifts centered on God's Word.
EARLY ACCESS TO PRODUCTS & SALES
We love our members and give them early access to all our sales, most of which sell out! Our biggest sales of the year are our Easter Sale, Summer Warehouse Sale, and our Black Friday/Christmas Sale.
FREE ONLINE COMMUNITY
We'd love to have you join our official Dwell Facebook community! The Dwell team and friends chat about what we're learning, post insights, ask questions, and pray for one another. It's just plain old inspiring to hear how God is at work in our real lives, feeding our souls and those in our spheres, whether that be at home, work, out in the community, or at church.
FREE WEEKLY DEVOTIONALS
Dig deeper into your memory verse with the weekly Dwell Devotional, which will land in your email inbox every Monday! Each week, we talk about what our verse means and how it's challenging, encouraging, and transforming us.
FREE WEEKLY PODCAST
Our members love tuning into the Dwell Differently Podcast. Every Wednesday, Natalie, Vera and our guests really dive into the verse we're learning! Each month, we have a teaching episode, a connecting episode, an application episode, and a wrap-up episode. Subscribe on every major podcast player.
Good Subscription Agency